Women Cheats Death in Car Accident Thanks to Bra Padding
November 11, 2011 08:45pm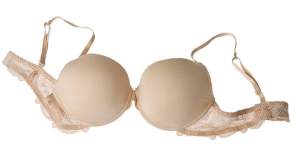 Lisa Somerville, age 28, was driving home in a rainstorm when lost control of her vehicle and careered head-on into another car. Somerville was eventually cut free by firefighters and rushed to a nearby hospital with four cracked ribs, a broken nose and a punctured lung.
Doctors later informed the young woman that her silicone padding—used to boost her AAA bust—had saved her life by acting like airbags.
Somervile, a receptionist with an eight-year-old daughter, said: "I couldn't believe my luck or the irony that something I'd hate for so long saved my life." She admits she wears the pads—and often doubles up—to increase her bust size. "I used to hate my chicken fillets pads and feared they would fall out at the most embarrassing moments, but that night, for the first time in my life, I was grateful for them," said the fortuitous woman.